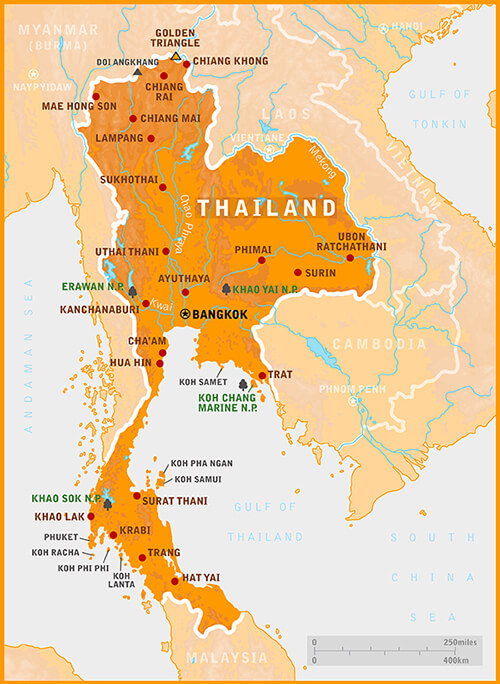 The irresistible combination of spectacular natural beauty, friendly local people, fascinating cultural heritage, untouched hill tribes, exquisite food, and historical attractions like ancient temples, royal palaces and museums, have transformed exotic Thailand into one of the world's most popular tourism destinations.
Thailand truly does offer something for everyone, whether you are an intrepid adventurer or are simply seeking picture-postcard beaches. A kaleidoscope of natural beauty, history, culture, food and nightlife, provides an infinite number of possible and colourful travel experiences. If you travel to Thailand you could visit the ancient cities of Ayutthaya and Sukhothai; enjoy a relaxing beach holiday in Phuket, Koh Phi Phi or Koh Samui; go searching for elephants in Khao Yai National Park; laze around in the bohemian backpacker town of Pai; go trekking in the mountainous regions surrounding Chiang Mai or Chiang Rai; receive an authentic Thai massage; go diving in Koh Tao or Koh Chang; discover exotic nightlife in Pattaya; enjoy some Thai food or go shopping in Bangkok; and much much more.
If you are unfamiliar with the country we have provided a map of Thailand to help you locate popular tourism destinations such as Bangkok, Chiang Mai, Koh Samui and Phuket. The map of Thailand may also prove useful in locating some of the organizations listed on the Volunteer Thailand web page.